Do you struggle to come up with quick and easy healthy vegan weeknight meals? I know I do!
Picture this. You get home from picking up the kids. It's 5pm and you're tired and hungry. The kids are screaming and demanding food. You know there's food in the cupboard to cook for dinner, but the idea of cutting up all the veggies and cooking for half an hour really doesn't appeal. So you call for takeaway.
THEN you feel guilty because you should have cooked the food you had in the cupboard, and takeaway isn't really the healthiest of options.
Have you been there? I swear I felt like this at least twice a week.

Finally, I decided enough was enough. I sat down and tweaked 5 of my favourite quick and easy recipes and tweaked them so that I could make them with pantry and freezer staples only. That way, when we next did a grocery shop, I could buy the ingredients for each of these recipes and have them on hand for any time I couldn't be bothered cooking.
These recipes have literally been my saviour some nights. They take no longer than 15 minutes to cook, and they all consist of literally pouring in ingredients and cooking. No prep work required at all.
Mexican Rice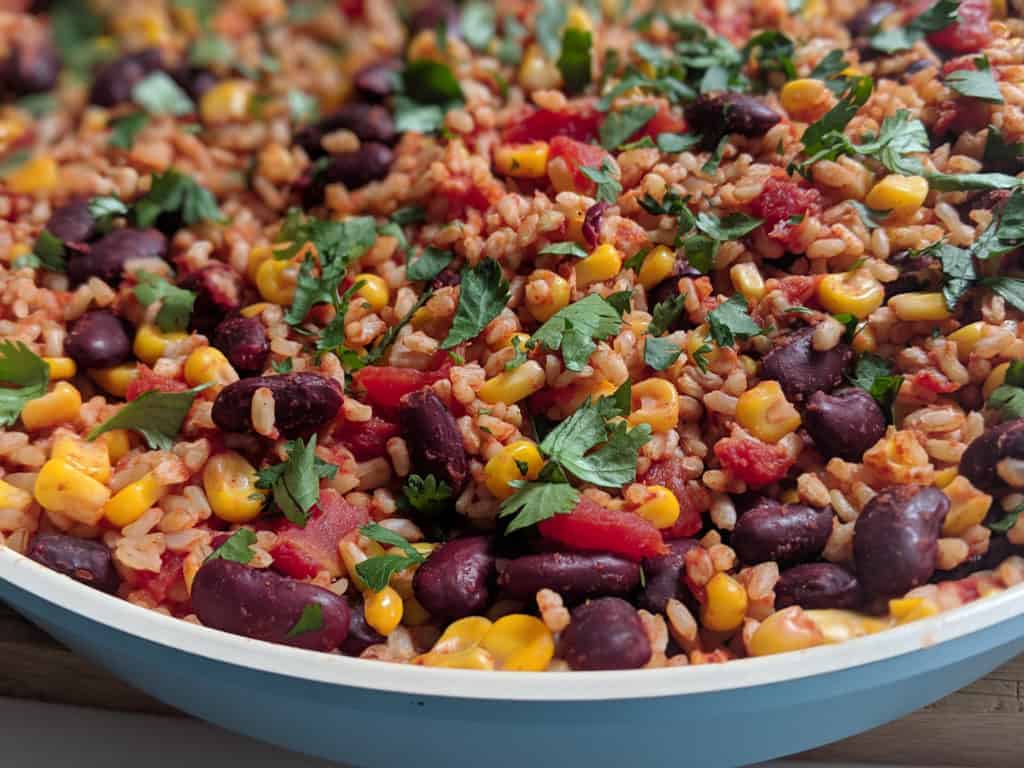 This recipe is super quick and easy. With brown rice, tomatoes, corn and kidney beans, this is a super healthy weeknight meal when you feel like Mexican.
It uses the instant rice packets that you can get from the supermarket. If you prefer (and are feeling organised!) you can precook and freeze 2 cups of rice in place of the instant rice.
Supermarkets sell packets of taco seasoning. I often keep one on hand for if I'm ever feeling like something with a Mexican flavour. You can adjust the seasoning in this recipe to suit your taste. I generally start with 2tspn and go from there to make sure it isn't too spicy for kids. If you prefer, you can even serve theirs and add more to the adult serves afterwards.
Sun-dried Tomato Pasta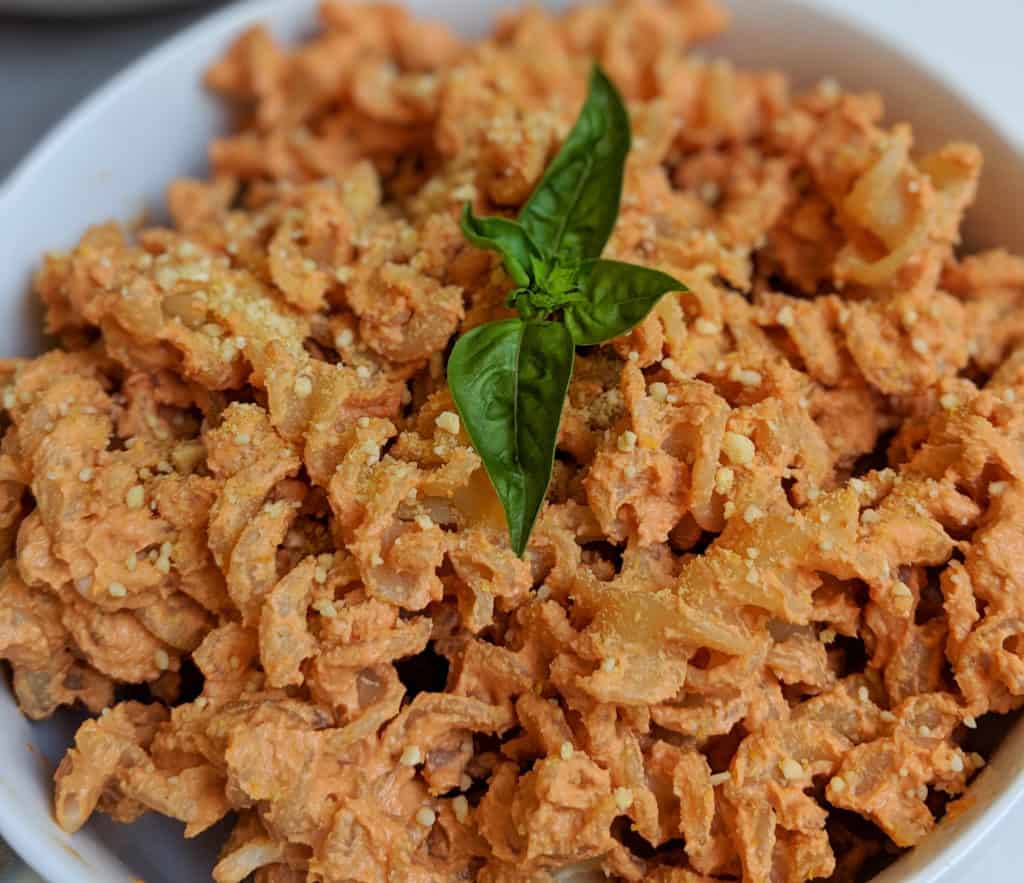 This is by far one of my favourite weekday meal recipes. You can make it in the time it takes to cook a pot of pasta. Simply boil some water, put the pasta on to cook, blend up the sauce ingredients and stir through. Couldn't be easier!
I use the oil free sun-dried tomatoes. They come in a vacuum pack in the sun-dried tomato section of the supermarket. If you can't find them, a jar of sun-dried tomatoes works too. Just try to drain as much oil off as you can.
Satay Noodles
Your kids will love these delicious peanut satay noodles with tofu. This recipe does involve slightly more steps, but it is still ready in 15 minutes, and the taste is worth the extra effort.
This recipe uses the marinated tofu that you can get in the small goods section of the supermarket. I find the satay flavour works best (funny that!) but if you can't find that, any of the other flavours would work as well. You could also use plain tofu if you preferred.
There is one sneaky ingredient in this recipe that you will need to buy fresh. This recipe uses the precut coleslaw mixes from the veggies section of the supermarket. I figure that this almost counts as a pantry staple, because they last for nearly a week in the fridge. Plus, the coleslaw mixes are so versatile that I always have one on hand. You can put them in stir frys, like this recipe, on sandwiches or in salads.
Fried Rice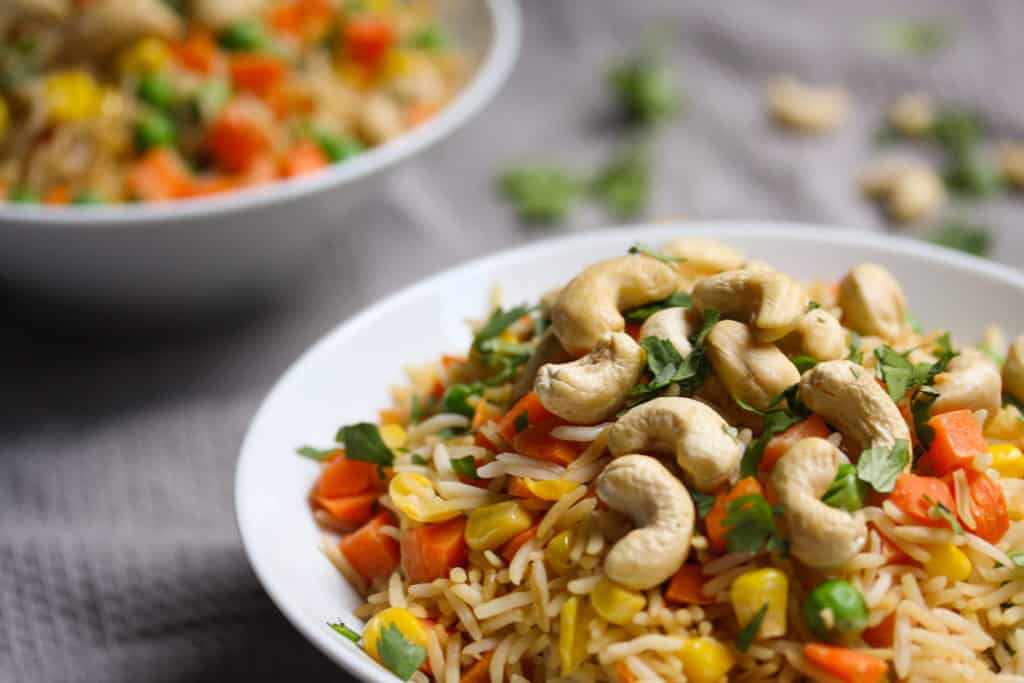 The old favourite, fried rice. What kid doesn't like a nice bowl of fried rice? And even better, this recipe has been turned into the simplest and easiest recipe ever. Just add everything to the frying pan, cook and serve.
Like the Mexican Rice, this recipe uses the packets of instant rice. This recipe also uses a small amount of sesame oil for flavour. If you're completely oil free, you can replace this with a small amount of veggie stock or water, but I find it adds to the taste.
Burgers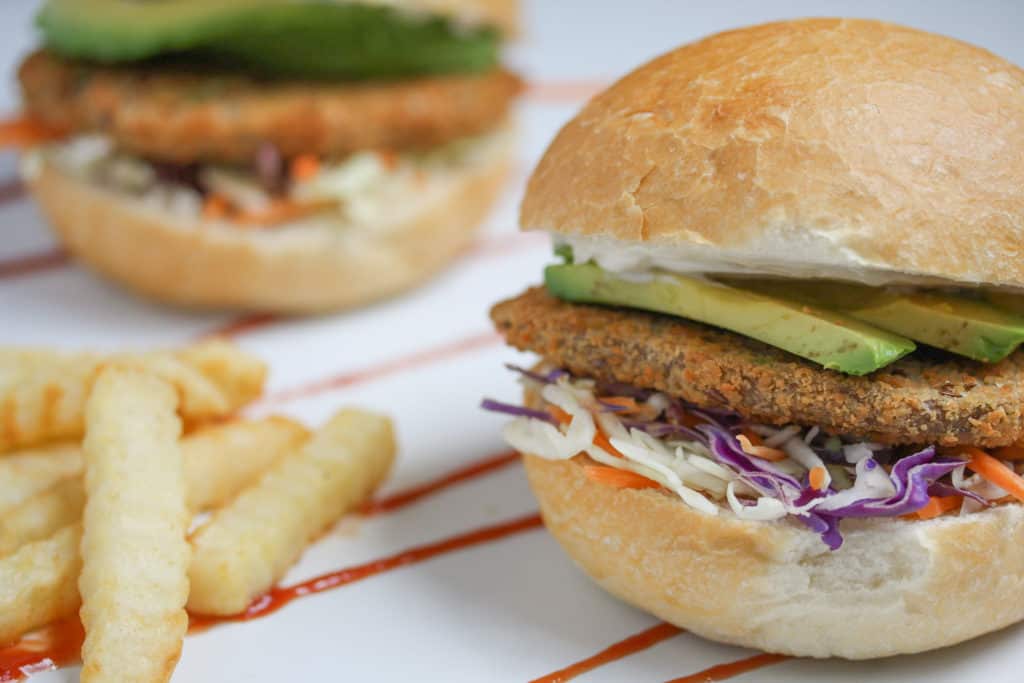 Last, but definitely not least, there are Burgers for an easy Friday night.
Don't be put off by the extra time these take. It's all cooking time in the oven. The actual amount of time that you need to put in to make them is about 5 minutes.
Our favourite brand of Vegan Schnitzels are the Fry's brand (no affiliation!), but there are so many brands out now. You should definitely be able to find something good in your supermarket. This recipe also works if you use a vegan patty that can be baked in the oven.
I've put these super easy vegan weeknight meals together in a free eBook so that you can easily print them out and have them on hand anytime you need an easy recipe.
To receive this totally free eBook of amazing recipes, and never have to resort to takeaway again, simply fill in your email address below and I will send it straight to you.