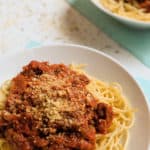 Print Recipe
Lentil Bolognese
This budget friendly recipe takes just 20 minutes, and is very kid friendly. It also makes a great recipe for if you're just starting out as a vegan.
Cook pasta according to packet instructions.

While Pasta is cooking, place water and stock in a pan on medium heat. Stir until stock has dissolved.

Add lentils to stock. Cook, stirring frequently, until stock has disappeared.

Add grated veggies. Cook for 1 - 2 minutes.

Add passatta and stir through. Allow to cook for approximately 10 minutes (or longer) stirring occasionally.

Add Worcestershire sauce and Italian Herbs to taste. You may require more if using passata without added flavours.

Serve over cooked pasta with vegan Parmesan sprinkled over.