These Iron Rich Chocolate Protein Balls are a great kid friendly, vegan option to boost iron.
Iron is a nutrient that is often a concern for parents when considering their kids' diets. To be honest, it can be a worry for all parents, not just parents of vegan kids. Iron is a plentiful nutrient in vegetables, wholegrains and legumes, but unfortunately, these are not always appealing foods to kids. For this reason, I've decided to come up with some recipes that are high in iron, but as foods that will be appealing to kids. The first of these is this one for Iron Rich Chocolate Protein Balls.
These Iron Rich Chocolate Protein Balls each contain 2.5mg of iron, which is over 1/4 of the daily requirements for kids under the age of 8.
These Chocolate Protein Balls use cashews and pumpkin seeds, which are both very high in iron. You can increase the iron content further by using the raw, unprocessed version of cocoa – cacao. Cacao is more expensive than cocoa, but it is packed with so many nutrients like iron and magnesium that I try to get it whenever I can. These days, you can normally find cacao in the health foods section of the supermarket.
Serve this recipe with some fruits that are high in Vitamin C, which helps the body absorb iron better. Some great fruits that are packed full of vitamin C are berries, oranges and kiwi fruit.
To Make:
I made these Chocolate Protein Balls in the food processor. You can make them in a high powered blender, but be careful when mixing the dates as I find they can burn out the motor.
After many attempts in the past, I have found that the best way to make protein balls is to process the dry ingredients separately first, and then add the dates. I find that if i do the dates first, they can clump up and stick to the blades. It just turns into a big mess!
Let me know what you think of these Iron Rich Chocolate Protein Balls. If you're looking for another kid friendly iron recipe, try my Kid Friendly Breakfast Slice.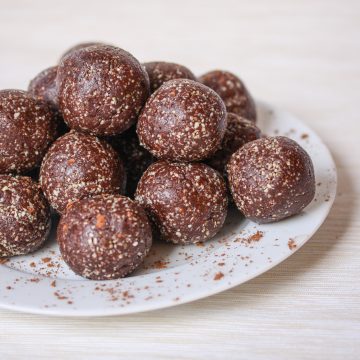 Iron Rich Chocolate Protein Balls
These Chocolate Protein Balls are a great way to increase your kids' iron intake, with over 2.5mg of iron per serve.
Ingredients
1

cup

Raw Cashews

1

cup

Pumpkin Seeds

1/4

cup

Sesame Seeds

1/4

cup

Cacao Powder

or cocoa

1

cup

Medjool Dates

pitted
Instructions
Process the nuts and seeds in a processor or high powered blender until crumbly.

Add the dates and cacao. Process until fully incorporated into the nuts and seeds, and the mix forms a sticky crumb. The mix should stick together when pressed between the fingers.

Roll spoonfuls of the mix into balls.

The protein balls can be eaten immediately, or refrigerated. The balls will keep in a sealed container in the fridge for approximately 4 days, or can be frozen.
Notes
If you are not using fresh Medjool dates for this recipe, I recommend soaking the dates in boiling water for about 10 minutes to soften them before starting the recipe as dried dates can be hard to process. 
| Nutrient | Per Serve | Per 100g |
| --- | --- | --- |
| Energy | 817kJ (195cal) | 2033kJ (486cal) |
| Protein | 6.67g | 16.6g |
| Carbohydrates | 13.46g | 33.47g |
| Fat | 12.88g | 32.04g |
| Iron | 2.77mg | 6.89mg |
| Zinc | 1.83mg | 4.56mg |
| Calcium | 20.22mg | 50.29mg |
| Fibre | 3g | 7.45g |